Series 4080 3M™ Diamond Grade™ DG³ Reflective Sheeting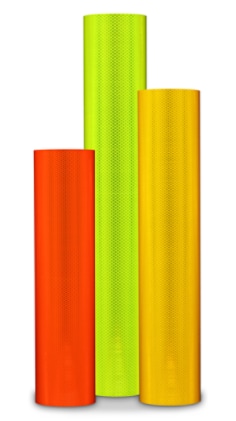 A super-high efficiency, full-cube prismatic retroreflective sheeting with pressure sensitive adhesive. Designed to enhance sign conspicuity during daylight hours, it is especially visible at dawn, dusk, during poor daylight and in adverse weather conditions. Night time reflective performance is of the same high quality as non-fluorescent 3M™ Diamond Grade™ DG³ Prismatic Reflective Sheeting. It performs at all sight distances: short, medium and long. Excellent visibility at wide entrance and observation angles.
Fluorescent Yellow (4081), Fluorescent Orange (4084), Fluorescent Yellow Green (4083).
Details
3M™ Diamond Grade™ DG³ Fluorescent Reflective Sheeting Series 4080 offers superior reflectivity at short and long distances, fluorescent for added visibility during dawn, daytime, dusk and inclement weather
Meets today's highest published performance specifications
3M's best solutions for sign positions outside of primary headlight illumination
One of the brightest durable sheeting for cost-efficient guidance
Offers excellent life-cycle value
Short, medium and long sight distances
Disadvantaged sign placement locations such as overhead or left shoulder